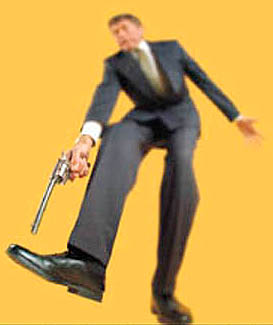 How many times did we shoot ourselves in the foot during that game? My guess is at least 10-15. Penalties, stupid-predictable-fan-influenced play calls, and poor tackling.
I have so many thoughts running through my head right now that I can't get them all out to write a logical post. I know, I know whats new. Here are a few random thoughts but expect more tomorrow.
#1

Don't blame Pat McAfee. Devine should not be on the bench in that key situation.
#2
Jeff Mullen was influenced by the fans calling for more running plays.
#3
The clock management was not as bad as, I think, the announcers made it out. It was lacking but not totally incompetent.
#4
The sideline was in disarray multiple times and that falls to the head coach.
#5
Why wear gloves if you are not going to fasten those mother fuckers. It is not a fashion show. Use the velcro straps. Maybe it will help you grip and release the ball more cleanly.
#6
The D stepped up but the holes in the secondary take me back to the days of Perlo Bastien. Who was the coach back then?? Steve Dunlap...
#7
All in all, I blame the coaches. We saw poor play calling. A lack of fundamentals and discipline. And a horrible nose about when to make substitutions.
#8
HCBS, remember when you said you will know when it is time to step aside. I would start thinking real hard about getting out of the way. The team played with heart and deserved to win the game. Hell, they almost won the damn game in spite of HCBS's coaching. I'm not calling for your firing, YET.